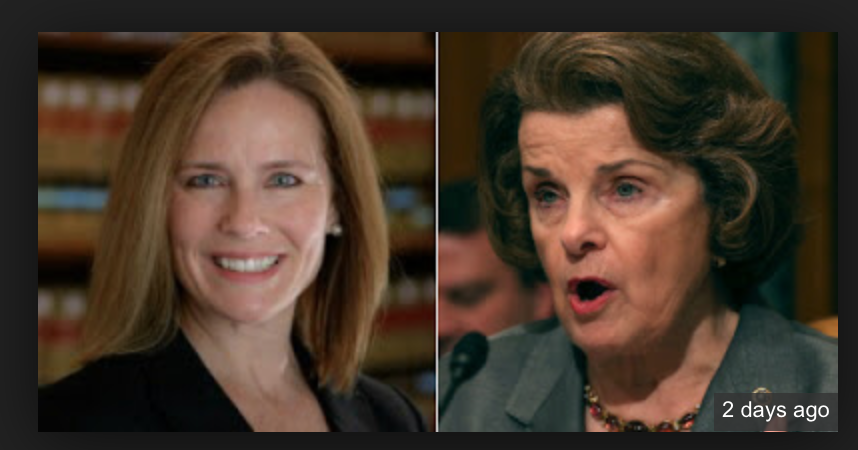 Religious Tests Under the Constitution
California Senator, Dianne Feinstein, abetted by Senate Colleagues recently demeaned the Catholic faith of a nominee to the Seventh Circuit Court of Appeal.
The nominee, Amy Barrett, is a professor of law from Norte Dame. She has impeccable legal, intellectual and educational credentials and once clerked for Supreme Court Justice Antonin Scalia. At her confirmation hearing, she was subjected to an aggressive line of questioning concerning her religious beliefs as a practicing Catholic. In one particularly offensive exchange, Senator Feinstein scolded her and said, "When you read your speeches the conclusion one draws is that the dogma lives loudly within you."
U.S. Bishops condemned the comments as "anti-Catholic bigotry" that reveal "a thinly veiled anti-Christian bias." The President of Norte Dame, John Jenkins, said it was "chilling" to hear from a United States Senator that one's religion might disqualify them from service as a federal judge.
Senator Feinstein's motivation in examining a nominee's religious views is no secret. She wants to know if the nominee agrees with the religious teachings of her church regarding the morality of abortion or homosexual activity. She wants to know if the candidate would uphold or overturn Roe v Wade (abortion) or Lawrence v. Texas (gay sexual activity) because of her religious beliefs. And if the nominee does not answer by expressly rejecting such religious teaching she risks having her nomination voted down and being denied the public office she seeks.
This is not the first instance in our modern history that the faith of individuals wishing to serve in public office has been attacked by Senators.
At one time not so long ago the questioning of judicial nominees by Chuck Schumer, Dick Durbin and others, became so egregious that a public information campaign was launched under the title "Catholics need not apply!" In reaction a coterie of Catholic Senators, led by Pat Leahy, proposed a Senate rule prohibiting inquiry into a person's religious beliefs. The rule failed to come to a vote. Even, John Roberts, our current Chief Justice, at his confirmation hearing, was aggressively examined under oath about his Catholic faith. And only recently, Socialist Senator Bernie Sanders attacked Russell Vought, a nominee to the post of budget deputy director over his Christian faith.
Does such questioning of a nominee's religious beliefs violate the Constitution?
Article VI, Clause 3 states, inter-alia, ". . . . all executive and judicial Officers, both of the United States and of the several States, shall be bound by Oath or Affirmation, to Support this Constitution, but no religious Test shall be required as a Qualification to any Office, or public Trust under the United States."
While Senators may question any nominee on any subject outside the committee room, it is different when the person is placed under oath before being questioned. Placing them under oath moves the examination of their religious beliefs into the realm of a religious test which the Constitution forbids.
The founders were very familiar with religious oaths and tests. Oaths confirming or rejecting selected religious views were required of anyone seeking public office in merry old England as well as in many of the states at the time the Constitution was written. Those tests were used to protect state favored churches. For example in England an act of Parliament passed in 1672 required all persons who wished to hold public office to take an oath concerning the sacrament that effectively precluded Catholics from serving. Many of the States in pre-revolutionary America had similar provisions. For example the state of New York required an oath disavowing allegiance to a foreign prince, to wit, the Pope.
And Oaths meant something to the founders. To be bound by an oath was a solemn undertaking. The promise to keep one's word had real meaning. To break a covenant either with God or the State was a serious breach of morality.
The inclusion of the "no religious test" phrase in the same sentence in Article VI as the requirement of an oath or affirmation to support or defend the constitution is significant. Because the phrases are separated by the conjunction "but" means that the "no religious test" clause is an exception to the oath to defend and support the constitution. It means government may not require an oath concerning religious beliefs as a condition of taking a public office or judgeship. And placing someone under oath and attempting to force them into making a choice of rejecting the teachings of their church or forfeiting the opportunity to take a public office or judgeship is a religious test and violates Article VI of the U.S. Constitution.