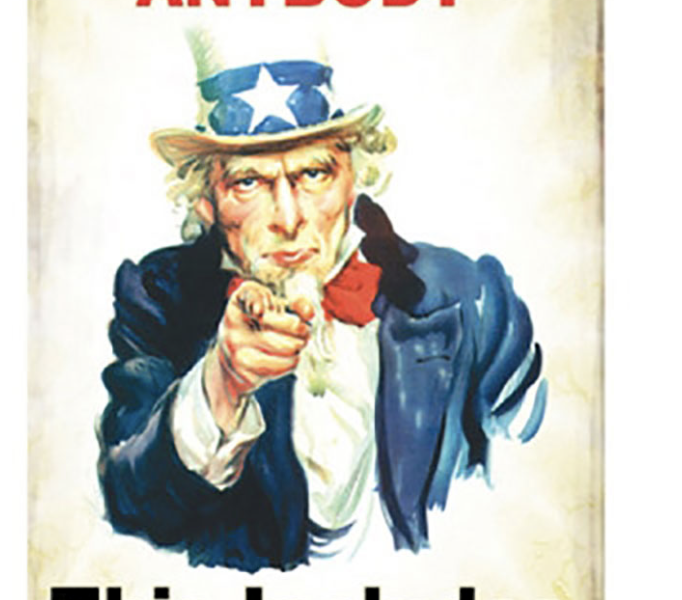 This week's segment of Cline on the Constitution.
"We Reserve the Right to Refuse Service to Anyone."
When Americans think of Civil Rights, they often think of the Constitution.  That is okay.  But it is inaccurate.
Our most fundamental rights are enshrined in the Constitution and Bill of Rights.  There is, however, a distinction between the Bill of Rights and Civil Rights legislation. The Protections contained in the Bill of Rights are directed against Government Action. Civil Rights laws, on the other hand, regulate Private Conduct.  For example, being denied access to a government building may violate the Bill of Rights.  Being denied accommodations at a privately owned inn or restaurant involves Civil Rights law not the Constitution.
Civil Rights laws are not part of the Constitution.  They are laws which, like other laws, are passed by the Congress and State Legislatures or, increasingly, local government entities such as city councils or school boards. And as such, unlike the Bill of Rights they can be changed by the same governmental body that passed the law in the first place.
When in conflict with the United States Constitution, Civil Rights laws are invalid.  The reason being because the United States Constitution has a Supremacy clause.  It is the Supreme Law of the land. No federal, state or local ordinance, even if it is in the nature of Civil Rights legislation, may violate the United States Constitution nor a citizen's rights enshrined in our Bill of Rights.
The primary Federal Civil Rights Laws were passed by Congress in 1964.  The authority to pass the laws is based upon the Constitutional grant to Congress of the power to regulate Interstate Commerce.
What this means is that if it can be rationally argued that conduct by a private business "affects" Interstate Commerce then Civil Rights laws that regulate the conduct is constitutional.
Two examples may help clarify. We all remember that during the civil rights movement, one of the tactics used to end segregation in transportation was to have teams of Black people ride buses throughout the South.   State enforced public-accommodations laws restricting where Blacks were allowed to ride in buses were thereby challenged.  Because the private business of busing could be directly shown to "affect" interstate commerce even if the bus never crossed state lines the Civil Rights legislation prohibiting the discrimination by private bus companies was constitutional. On the other hand, attempts by States to regulate gun possession by enforcing gun free zones near schools could not be justified as "affecting" interstate commerce and were struck down by the Supreme Court as violative of the Second Amendment.
Besides the Federal Civil Rights laws, there is a whole other layer of Civil Rights laws which have grown up over the last several decades.  The first level is at the State level.  Though some of the States have long histories of acting to prohibit discrimination, their laws were generally limited to discrimination based on "race, color or previous condition of servitude."
Modernly, there are not only State Civil Rights laws, there are County Civil Rights laws and even City Civil Rights laws.  Almost all are directed toward outlawing discrimination by private businesses against groups of persons.
And the list of groups has expanded over the last several decades.
Among others, modern civil rights laws address discrimination as applied to race, gender, creed, ethnic origins, religious minorities, sexual orientation, marital status, ancestry, disability, illegitimacy and the newest category, gender identity.
The list expands or contracts depending on the jurisdiction.
And the frontier is being pushed even further.  California's legislature is in the process of passing a new Civil Rights law requiring half of all corporate board of directors of private business be women. Of course, if they can require such a quota for women, how long will it be before other groups demand equal representation on corporations doing business in the State?
What makes for interesting juxtapositions of this tome of Civil Rights legislation at the state and local level is the Constitution of the United States. Actions to enforce civil rights laws, be it by court or commission, is Government Action and, therefore, if the enforcement action impinges on an individual's rights under the Bill of Rights, the matter is brought full circle.  The question is joined.  Does the Civil Rights law violate the Constitution?
This is where a man by the name of Jack Phillips found himself.  Mr. Phillips owns and operates a bakery. He is a devout Christian.  He operates his business according to Christian principles even if it means forgoing income.  He is closed on Sundays, he pays his employees higher than minimum wage, he gives them loans of money in time of need, he refuses to bake cakes containing alcohol, he refuses to bake cakes with racist or homophobic messages or cakes criticizing God and refuses to bake cakes celebrating Halloween even though Halloween is one of the most lucrative seasons for bakeries.
Two men asked him to prepare a wedding cake in celebration of their marriage.  He declined.  He offered to prepare and sell them any other baked goods they desired, including birthday cakes, but to create the cake celebrating a marriage of a same sex couple violated his religious beliefs that marriage is a sacred union between one man and one woman. To create such a cake celebrating the opposite of what he believed, he argued, violated his First Amendment rights, both as to the First Amendment guarantee of the Free Exercise of one's religion and Freedom of Expression.
His argument brought to the fore, two rights that are superior to any state or local civil rights ordinance: Freedom of Religion and Free Speech.
The State of Colorado made short shrift of the Mr. Phillip's religious beliefs and ruled he violated the couple's rights by not baking the cake. One commissioner went so far as to equate Mr. Phillips refusal to bake a cake to debunked justifications for slavery and the holocaust. He said, "and to me it is one of the most despicable pieces of rhetoric that people can use to – to use their religion to hurt others."
The Colorado commission's reprehensible treatment of Phillips gave Justice Kennedy a gift.
Justice Kennedy is the author of the most important gay rights cases of the era, including the Obergefell case banning restrictions on Gay Marriage.
And on his way off the court, he needed to find a way to uphold Phillips without endangering the progress in jurisprudence regarding gay rights he had led the way in engendering.
In a 7-2 decision written by Kennedy, the court found for Mr. Phillips.  However, as I said in my last blog entry, they essentially punted. They didn't find that Mr. Phillips rights were violated by requiring he bake the cake or be fined.
Rather, in his majority opinion Kennedy found that the Colorado commission's treatment of Phillips demonstrated an "unconstitutional hostility to his religious beliefs."  He went on to fashion some new rules, which may or may not survive the test of time.  But he did not address the Free Exercise or Freedom of Speech issues.  He essentially kicked the can on those issues down the road to be decided by a future Supreme Court.
As to the Free Exercise clause, the court is walking a tight rope of their own making.  On the one hand, they fear that if they allow people to assert their religious beliefs in denying service to identifiable groups it would undermine all civil rights laws that seek to govern private conduct. A return to the back of the bus as it were. On the other hand, does government get to make the decisions on what is a valid religious belief and tell citizens they are not free to exercise their religion as they choose? The Constitution explicitly says No.
What is most interesting about the case and what has not received a lot of public discussion, but which was very much on the minds of many of the Justices as reflected in the concurring opinions penned by Alito, Gorsuch, and Thomas is what I believe is a major freedom of expression issue and what the court will have to address in the near future. And that is "Compelled Speech."  It has import in many areas.  From college campuses enforcing speech codes as if they were "re-education camps" to the large internet companies policing points of view.
As applied to the Baker, the court acknowledged that Mr. Phillips considered the cakes he made as works of art.  As such they were "expressive conduct" which is protected under the First Amendment.
Additionally, as I outlined in my last blog, requiring speech approved by the government is just as violative of the first amendment as restricting protected speech.
For example, the court referenced a previous case in which the Court struck down an ordinance requiring the organizers of a Saint Patrick's Day parade to include a unit celebrating gays and bisexuals.
The court explained that they rejected the notion that governments can mandate thoughts and statements acceptable to some groups or indeed all people, as the "antithesis of free speech." As one of the concurring opinions stated, "One important manifestation of the principle of free speech is that one who chooses to speak may decide what NOT to say and tailor the content of his message as he sees fit."
Colorado attempted to justify requiring the creation of the cake as compelling Phillip's speech to prevent him from "denigrating the dignity" of same sex couples, "asserting their inferiority" and subjecting them to "humiliation, frustration, and embarrassment."
One justice wrote, "These justifications are completely foreign to our free-speech jurisprudence." He went on to say, "States cannot punish protected speech because some group finds it offensive, hurtful, stigmatic, unreasonable, or undignified." And further, "it is not the role of the State or its officials to prescribe what shall be offensive."
The Justice hit the nail on the head when he quoted an earlier case, "If the only reason a public-accommodations law regulates speech is "to produce a society free of biases against protected groups, that purpose is decidedly fatal to the law's constitutionality, for it amounts to nothing less than a proposal to limit speech in the service of orthodox expression."
I foresee many other instances where the Bill of Rights is going to come into conflict with the increasingly aggressive use of State and local ordinances to say nothing of school rules designed to stifle unwelcome opinions by requiring a rote declaration of allegiance to principles dictated by those in authority.
Ultimately, such laws harm rather help the cause of gay rights as well as other civil rights by oppressing those who may disagree with what we believe.
Stay tuned.
But about those signs "reserving the right to refuse service to anyone."?
Forget it.
For other articles on the Constitution as well as writings by Phil Cline, visit philcline.com